PENYBONT LODGE
No 6743
Warranted: 28th July 1948
Meetings ~ Dates ~ Times
Installation Meeting
February

Regular Meetings take place on the evenings of:
Third Friday of:
September / October / November / February / March / April / May


Instruction and Rehearsal Meetings are held regularly


The Lodge dines 'In Hall' at the close of each meeting
Those wishing to dine must reserve places in advance
Social functions are arranged according to the wishes of the Master

We have ample free private car-parking at our Hall
Click here to view the origins and history of Penybont Lodge
Compiled by Brother Colin Evans and Submitted by W Bro Byron Butler
Lodge Announcements and Notices
Masonic Golden Jubilee 2018
Worshipful Brother Byron Frederick Butler DL PAGDC
A splendid celebration for
a loyal Freemason
At the regular meeting of Penybont Lodge No 6743 on Friday 20th April 2018 over 100 Members and friends came together to honour their senior Past Master W Bro Byron Butler DL PAGDC upon his achieving his Golden Jubilee in Craft Freemasonry. A full history of his Masonic career has been researched and prepared by Bro Colin Evans and W Bro Andrew Wood the Secretary of the Lodge and is to be found in full in the document below.

The programme for the evening included the Initiation ceremony for Mr. James Steven McKay. The Master, W Bro Kerry Edwards invited Byron to conduct the ceremony accompanied by the most senior Brethren of the Lodge, in terms of masonic age. These are also listed in the profile shown below. During the ceremony Presiding Master Byron invited V W Bro Dr Paul Calderwood, the Father-in-law of the Initiate, to Invest the newly made brother with his Apron. The group photograph includes all those who took part in the ceremony.
To complete the celebrations our brother Byron was presented with his Provincial Certificate of Fifty Years Service by Assistant Provincial Grand Master W Bro Stephen Harries PAGDC together with a splendid commemorative plate donated by the Members of Penybont Lodge.






Click the images to enlarge to full size
Byron Butler Career Profile
Click to display the text
Penybont Lodge 70th Anniversary
Celebration & Lecture
Including a Painting
2018
Penybont Lodge No. 6743 is at present celebrating its 70th anniversary and as part of this special year, one of its past masters W.Bro Keith Evans, has completed a watercolour painting of "King Solomons Temple".
He presented this to the lodge, explaining the history of his late entry into the wonderful world of art and the pressure of interpreting the many descriptions and dimensions to be found about the temple and its construction.

He explained that for medical reasons after suffering Post Traumatic Stress Disorder, he threw himself into this relaxing hobby. His enthusiasm had been set alight after watching a programme on television, where an artist named Bob Ross explained the "Joy of Painting".
It was Keiths' intention in 2014, to attempt this masonic project. He read many descriptions and studied illustrations. Then and only then could the drawing and painting commence. The nerves kicked in as these sketches were first drawn, after which the final decision had to be made…. Watercolour, Acrylic or Oil. Watercolour won, mainly for its magic of transparency, the lightness and gentleness of its colour.
The gift was well received and W .Bro Kerry Edwards, Penybont Lodges' Worshipful Master expressed his appreciation on behalf of the brethren for the painting and the content of a short talk given by its artist
The presentation was a successful end to an instructive evening started with a very interesting talk on "The First Degree and its Symbolism" given by W.Bro. Mike Baker, the Deputy Provincial Grand Orator.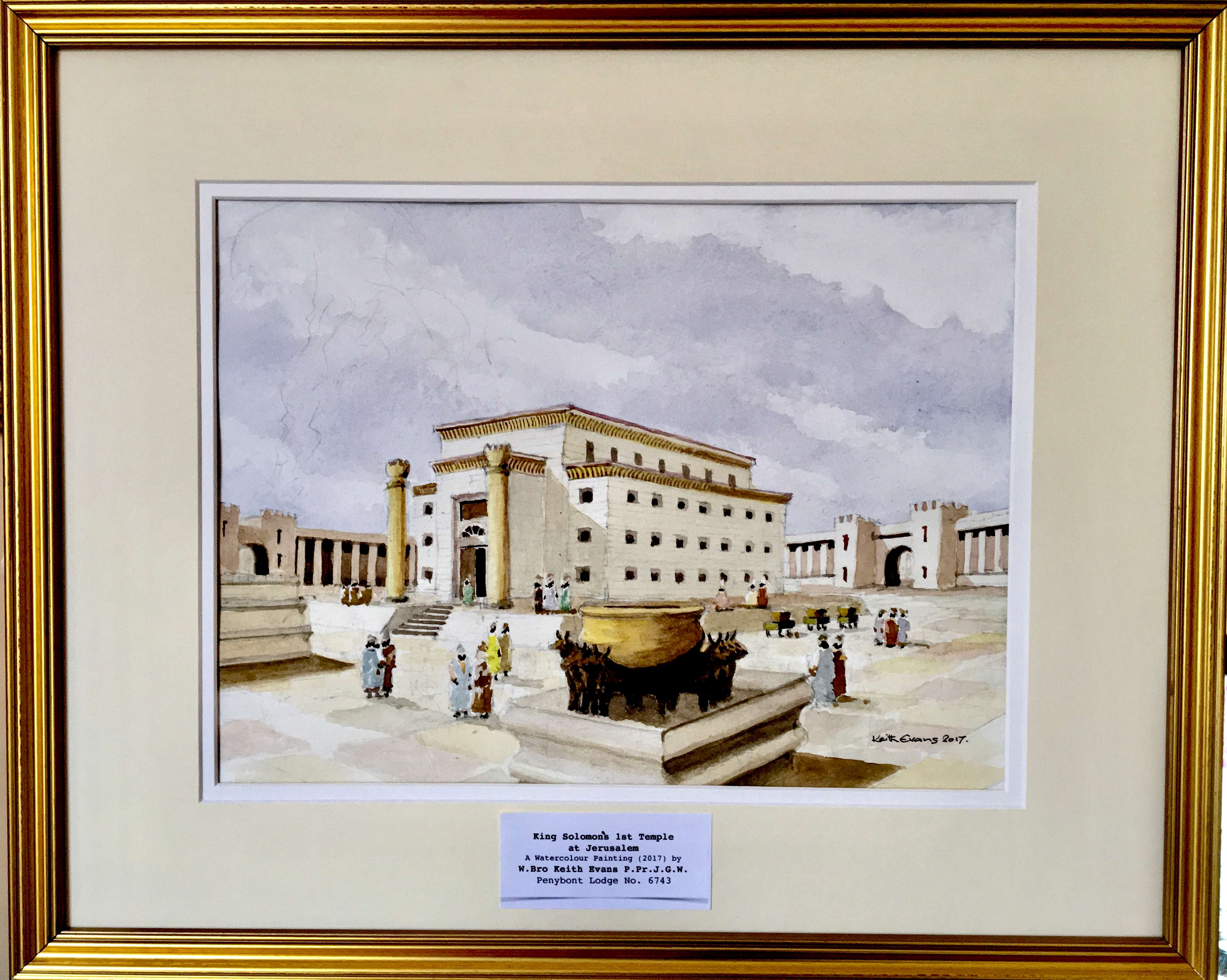 PENYBONT INSTALLATION 19 FEBRUARY 2016
Father Installs his Son
The Penybont Lodge 6743 annual investiture took place on Friday 19th February 2016 when in a very rare ceremony, a father installed his son.

With the gracious cooperation of the reigning Master, W.Bro. Mike. Flanagan, Worshipful Brother Keri Edwards PPrAGSwdB was able to install his son, Brother Lee Edwards into the Chair of KS in splendid fashion, and in the presence of a lodge of about 90 Brethren.

The Executive Officer present, Assistant Provincial Grand Master, W Bro Alan Gardener appreciated the most emotional aspect of the occasion for the principals, and after salutation, invited Brother Keri to be the first to congratulate the new Worshipful Master.

An excellent ceremony with a worthy and potentially strong team of officers, and a most enjoyable after proceeding, what more could one want? Penybont look forward with anticipation to an enjoyable and fulfilling year, continuing the work achieved over the past two years by WBro Mike Flanagan, IPM

Click the Thumbnails to enlarge to full size
PENYBONT INSTALLATION 16th FEBRUARY 2018
Son Installs his Father
At the Installation Festival of Penybont 6743 on February 16th, an unusual occurrence happened with the appointment of the senior Officers.

The Master, W. Bro Lee Edwards had the privilege of installing his father W. Bro, Kerry Edwards and appointed another son and father team as wardens.

Brother Craig Shakespeare was appointed as Senior Warden and Brother Brian Shakespeare as Junior Warden.

A quite unusual occurrence to have two son and father partnerships in the senior positions of our lodge.

Click the Thumbnail to enlarge to full size

Obituary Link ~ Memoriam Link

W Brother Neil Carmichael Jones PPrGSuptWks
Requiescat in Pace ~ January 2017

Penybont Lodge, Bridgend visit to Frances Rawden Lodge, Bristol
On 17th March, five Past Masters of Penybont Lodge 6743 visited Frances Rawden Lodge at Bristol, where a third degree ceremony was conducted in their usual and unique "Bristol Fashion".

We witnessed a splendid, high quality raising and enjoyed very good hospitality and a superb meal afterwards, all accompanied by the usual warm welcome.

This marks a re-awakening of fraternal visits that began in 1977 during the Mastership of W. Bro. Don Foster in the Bristol Lodge. Don, who is still a member of the lodge but lives in Kent, had been in school at Tondu with the late W.Bro. Peter Noel Williams. Both lodges hope that we can re-awaken this tradition of visiting, which is most enjoyable.

The picture shows Brothers Colin Evans, Stewart Richards, David Evans, Bill. Wilson and Byron Butler with the Master and the newly raised Brother."


Click this thumbnail to enlarge to full size